With over 30 years of experience and with 23 years as being a air conditioning contractor in the State of Florida, The Owner David Perkins of Classic Air Conditioning Inc. formed an opinion about air conditioning systems. It pays to upgrade! The difference in parts and quality in the higher levels do justify it's cost over the base style systems. In the same brand (manufacture) of equipment there are many upgrades you can choose that increase efficiency, better control for comfort, safety, longevity and quietness.
When you search for an Air Conditioning System. You need look at the 3 main components that work together in unison to develop the level of quality and then the SEER, EER and HSPF ratings. A myth is to just look at the outside condenser and think that is it! Not in today's time, The Condenser, Fan Coil/Furnace, and the Thermostat work together in combination to develop an AHRI number for certification for energy consumption and savings.
We recommend that if you are looking for a Central Heating and Air Conditioning System that you read over the 10 Tips for hiring a heating and cooling contractor from energystar.gov
The main brand that we sell is Bryant. Bryant has met our highest standard. Bryant being one the most recognized names in the business now NEW All Aluminium Evaporator Coils and Bryant with Microtube copper Technology in their condensing coils and the DuraCoat Bryant products gives us the confidence in installing what we believe is of extreme high quality in A/C equipment.
We have Top Quality complete systems to fit your budget. Up to 20 SEER air conditioning systems,Variable speed fan coil units that control humidity and temperature. If you are thinking about replacing your air conditioning system, We will be glad to go over all this with you with a free estimate giving you several choices that can fit your budget and your comfort!
​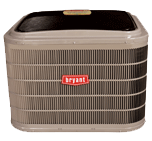 In Jacksonville Fl, most homes require a Heat Pump, Heat Pumps are actually Air Conditioning Systems that cool in the Summer but also heat in the Winter using the systems refrigerant. There are Straight Cool Systems, that some Condo have these systems are used for cooling but have electric heat coils only for heat. Then there is a few developments in Jacksonville that have Straight Cool with Gas Furnace for Heating. Here and Classic Air Conditioning Inc. we do it ALL!
No matter what your needs from Residential systems, to package systems, to Mini Split Ductless systems we have the right system for you at the right PRICE!
Limited 10 Year Part Warranty after Registration
Financing is Available